Have you been thinking about making a little extra money by blogging?  Or, maybe you've been dreaming about what life would be like if you were making a living as a stay-at-home blogger?
After winning big with my first blog, I'm laying out the blueprint to my blogging success so that you can live the dream you never knew was possible.
In this guide, I will take you step by step through the process of starting a blog and making money.
Why Start a Blog?
To help you achieve your dreams!
What are your dreams?  … to be become a well-known thought leader in your industry or niche, to attract a constant flow of new clients or customers, or take advantage of the unlimited potential of organic traffic to make a lot of money with advertising and affiliates?
Which ever dream you have, starting a blog could be the best big decision you'll ever make to get you there.
But Why a Blog in Particular?
No doubt you've heard a ton of success stories all over the place.  Content creators are making it rich online by using YouTube, Facebook, Twitter, Instagram, Twitch, Podcasts, Medium, and many others.
What does a blog have over other platforms?
Blogs are one of the best content formats for SEO (Search Engine Optimization).  Google loves blogs because, when done right, they are steady sources of fresh, informative, and engaging content.  If someone asks a question in a Google search and someone has written a blog post that answers that question and breaks it down with lots of information, chances are it will rank at the top of the Google search results… much higher than any social media post.  YouTube is the one possible exception to this which often competes right along with blogs.
Blogs are flexible to combine video, images, etc.  Since YouTube can often rival blogs in the search results, what better strategy than writing a blog post, making a video on the same topic, and then embedding your video into your blog post?
You own your blog.  Don't rely on volatile social platforms which can be there one day and be gone the next.  You never want to put all your eggs in one basket, and I would make sure you have control over the basket.  To be a YouTuber without a website is very risky business.  If your channel gets shut down, you have nothing left.
How Much Money Can You Make Blogging?
A lot.
But seriously, the sky's the limit if you score some top spot Google rankings and have the right monetization strategies in place.
But, to give you a splash of reality, it's not going to be easy or fast.  It will take at least a year or two of steady blogging before you start getting traction and seeing big growth.  At the beginning, you might get excited when you start making 10 cents, 20 cents, and 30 cents per day.
Don't get frustrated and give up!  Keep up with in and you'll start reaping rewards for all your hard work 10 fold, 20 fold, 30 fold, and beyond!
But, to give you a frame of reference of what kind of income your blog could bring in, my first blog was making $15,000 / month after 3 years!
Obviously, your mileage will vary.  Some people take up blogging and strike it rich after only 6 months, while others blog for several years without getting much from income from it at all.
How To Succeed at Blogging
With all the successes and failures of bloggers out there, how will you know if you will succeed or not?
I see many factors that may contribute to your blogging success:
Blog consistently (at least once a week, the more the better)
You should find a niche topic and build it out
Your niche should lend itself to natural affiliate referrals
You need to publish well-written, original, easy-to-read, helpful, informative, comprehensive, and engaging posts
Effectively integrate monetization without detracting from your helpfulness
Are You Ready to Commit to Blogging?
Again, blogging is not easy, especially at the beginning.  It's a lot of work and progress will be slow.
But, if you consider yourself a good writer, and you have a lot of knowledge and insight bottled up in your brain just waiting to come out in your writing, then I encourage you to do this.  Commit to it.
The potential rewards are beyond your wildest dreams.
Unfortunately, many new bloggers give up before seeing any results.
That's why you cannot just dabble in blogging.  If you're going to do it you need to commit.  You need to make it part of your weekly schedule.
Are you ready?  If so, read on.
Let's Do This!  Together.
Congratulations on deciding to become a blogger!  It's a long road ahead, but you got this!
Plus, I'm here for you, and we're going through it together… literally, at the time of writing this, I only have a few visits per day on this new blog that I just started.  I figured, if I've done it once, I can do it again, right?
Decide on Your Niche
Hopefully at this point, you have a niche topic in mind.  It's that topic that has all that knowledge ready to explode out of your brain.
Pick that niche topic.
Remember, "the riches are in the niches."  There are a few reasons why…
When you build out various aspects of a niche topic with lots of blog posts, Google begins to see you as an authority on that topic and you're much more likely to start ranking for keywords around that topic.
One of your main goals as a blogger will be to build an audience of people who subscribe to you in various ways.  People are much more likely to subscribe to a blog that is focused on the topic they are interested rather than a general blog that posts about lots of different topics.
Monetization and affiliate partnerships will be much more effective if your audience has a common interest in your niche
I say all of these things from experience of doing the wrong thing.  My first blog had a very big and generic niche of "tech".  This was good for me starting off with blogging because I got to write about whatever I wanted in the general area of technology.  But, over time, one topic began to rise above the rest.  That left me with a brand name that was not relevant to the topic, and restricted me from writing about other areas of tech for fear of losing subscribers and followers.
That's one of the main reasons why I started this blog, WP For The Win.  I had a passion for WordPress and wanted to write about it, but my existing audience was not interested in WordPress.  Now, I get to write endlessly about WordPress here, and the audience I will gain will also be interested in WordPress.
Decide on Your Blog Name
Now that you have decided on your niche, you need to pick a name for your new blog.
Keep your niche topic in mind; you might want to consider incorporating that niche into your blog name.
You should also consider putting some of your personality in your blog name.
You could even use your own name as part of it.  That's what I did with my first blog.  I used my last name, Kinkead, with my niche, tech.  That's how I decided on KinkeadTech.com
Remember to keep your domain short and memorable.  Try to avoid hyphens and don't settle for anything less than a ".com" domain extension (unless ".org" applies to you).  The fact is, people won't remember hyphenated domains or domains with extensions other than ".com".  You want a domain you can be proud of, and you don't want to have to spell it out for people when you tell them about your blog..
Your blog name also needs to be unique and original.  If someone out there has already purchased a domain or registered a Twitter or Facebook account with the same name, keep looking.
Your goal should be to have a consistent name that will be identical between your domain and social media handles.
To search your name ideas to see what's available, use namecheckr.
Buy Your Domain
Once you've decided on your blog name, buy your domain.
To do that, go to GoDaddy, and search for your domain name.  When you found one you want, I suggest registering for a free account on Cloudflare and purchasing your domain through them.
With GoDaddy, it will typically cost something very cheap like $2.99 for the first year and then $1.99 per year after that.  But with Cloudflare, they don't mark up their cost the register the domain, so you only pay $8.57 per year for a ".com" domain.
Set Up Your Social Media Accounts
Right after you've secured your domain name, you should immediately register all your social media accounts so nobody else takes your name.
I recommend at least registering your Facebook and Twitter accounts.
If they apply to your blog, you can also sign up for Instagram, Pinterest, YouTube, TikTok, etc.
Get Good Hosting
Now that you've secured your blog name, it's time to set up your website.  In order to do that, you need hosting.
Web hosting is a service you pay for that gives you access to a web server (or part of a web server).  You install software like WordPress on that server, and then you point your domain name's DNS to that server's IP address.  That's basically how a website works.
There are thousands of reputable hosting companies to choose from.
After dealing with tons of web hosting companies over the last couple decades as a web developer, I recommend SiteGround as my favorite.
I'm a paying customer of SiteGround, and I host all my websites on it.  SiteGround has handled my high-traffic blog through huge spikes without a problem.
SiteGround specializes in WordPress hosting, and they are truly top-notch.
Set Up DNS
Like I mentioned earlier, you will need to point your domain to your hosting server via DNS.  There are 2 ways to do this.
Set your domain's NameServers to point to your server.  It usually involves 2 nameserver addresses that look something like "ns1.example-web-host.com".  In this case your DNS records will be managed from your web hosting control panel.  Note: this option is not available when using Cloudflare and you wouldn't want to use this option anyway when using Cloudflare because they proxy your site to enable CDN caching and a bunch of other performance improvements.
Or, you can keep your DNS hosted at your domain registrar (in this case, GoDaddy or Cloudflare), and edit your DNS zone there and simply point your main "A" record to the IP address of your server.  An IP address looks something like "123.45.67.89".
Either way is fine.  It's up to you.
By the way, DNS changes take some time to propagate, so you may have to wait a while after you set your DNS before you see your website appear when you browse to your domain.
Install WordPress from WordPress.org
With DNS all set, you should now see a placeholder page from your web host when you go to your domain in your web browser.
It's time to install WordPress!
If you don't already know, WordPress is the best and most-popular content management system available.  It's also the topic of this whole blog.
Now, depending on the web host you chose, you probably have the ability to install WordPress right from your hosting control panel with the click of a button.  If you have that option available go ahead and do it.
If you don't have that option, don't worry, it's still pretty easy.  I'll guide you through how to do it assuming your hosting control panel is running "cPanel" (which is the most common).
Using cPanel's "MySQL Database Wizard", create a new database.  Copy and paste your database name, user, and password somewhere for safe keeping.  You will need them in a minute.
Go to wordpress.org and click the "Download" button to download a zip file of the latest stable version of WordPress.
Use cPanel's "File Manager" to upload that zip file to the root of your website (usually in /public_html/)
Right-click on that zip file in the File Manager and extract it.
It will probably put all those files in a folder like /public_html/wordpress/.  Select all of the files within that folder and move them up one folder.
Now, browse to your website's domain name, and you should see the WordPress installation screen.  Go through that wizard, entering in the database credentials that you used to create your database, and setting up your site's name and admin login.
Congratulations, you've installed a WordPress site!  Login and start familiarizing yourself with it (if you aren't already).
Recommended WordPress Settings
Before we get into building out your WordPress site, let's first go through the settings area.  Here are some settings I recommend you check on.
Settings > General

Timezone – Set your timezone to where you live.

Settings > Reading

Your homepage displays – If you want a separate page as your home page instead of listing your posts on your home page, then select "A static page".

Then set the page that will be used as your home page and set the page that will be used as your posts page (blog index).

Settings > Permalinks

The default permalink setting is horrible.  I prefer the "Post name" setting.
Download a Killer Theme
With an out-of-the-box WordPress installation, it will be using the latest default theme from WordPress.  You will probably want to install a better, more robust theme.
There are lots of free themes that you can install.  Unfortunately, most of them are limited free versions and will continuously bug you to upgrade to the premium version.
If you want a really awesome theme for your website with all the bells and whistles, you need to check out the themes on ThemeForest.
To install a theme in WordPress, go to Appearance > Themes > Add New > Upload Theme.
Themes usually have settings that let you customize the look and style.  You can find those options in Appearance > Customize or sometimes they have a separate Theme Options menu.
Download Must-Have WordPress Plugins
Next up, plugins.  WordPress plugins give your WordPress website extra features.
There's basically no limit to the to the availability of plugins to do what you want.  The WordPress.org plugin directory has over 56,000 free plugins available to search for and download right from within WordPress (Plugins > Add New).
Plus there are countless paid add-ons available across the Internet.  CodeCanyon is a great place to find popular premium plugins for WordPress.
Think of a feature that you want on your website, and there's a plugin for that.
Want a good place to start?  Here is a post of mine where I share my favorite WordPress plugins…
Set Up Google Tag Manager and Analytics
Now, before you forget, make sue you setup analytics tracking on your site.  You will want to start tracking your visitor traffic from the beginning and it's a good idea to keep an eye on it as you go.
If you want a quick and dirty Google Analytics setup, you can just sign up for a Google Analytics account and then use one of the many WordPress plugins to connect your Google Analytics account to your WordPress website.
But, if you want to future-proof your site from the start and set it up for some advanced features, then you need to use Google Tag Manager.
How to Set Up Analytics and GTM on Your WordPress Site
Sign up for both Google Analytics and Google Tag Manager.
While signing up for those, take note of (copy and paste) your UA ID from Analytics and your GTM ID from Tag Manager.
Install either of these free WordPress plugins:

Put your GTM ID in the settings page or setup wizard for that plugin and if using DurcellTomi's plugin, select the "Codeless injection" setting.  Save.
Within your Google Tag Manager account, click on the Admin tab, and then click on "Import Containers" in the container panel.
Right-click on this link, click "Save link as…", and name it "gtm4wp.json".
Upload that file on the Import Container screen in Google Tag Manager.
Pick your "Existing" workspace, select "Merge", and "Confirm".
Once imported, go to Workspace > Variables > "GA config – with ecommerce" and enter your Google Analytics UA ID into the Tracking ID field.
Click the "Submit" button in the top right corner to publish your container.  You will need to give it a version number and description.
You should now be able to have the Google Analytics Real-Time page open while you visit your website to see your page views getting triggered.
Set Up Google Search Console
Google Search Console is another must-have connection between your site and Google.
Set up your property and you'll need to prove that you own the website.  Once you are verified as the owner, there is a lot of information available in Search Console so you can make sure you resolve any issues Google is having with crawling your site.
Plus, you can look at awesome reports that show what search queries are driving how many impressions and how many clicks to your site along with the average position of your site for that query.
Start Collecting Email Subscribers
One of the primary objectives as a blogger is to build an audience of subscribers.  Subscribers are people who took enough interest in your blog that they want to notified of your new posts.
One of the best forms of subscribing is email.
Right from the start, you should sign up for a free MailChimp account and start collecting your list of email subscribers.
You can use the MailChimp for WordPress plugin to connect to your MailChimp account and build a basic form.  It will give you the shortcode that you can use to put your form anywhere in your content.  Or, you can put it in a widget in your sidebar or footer.
Set Up RSS Email Campaign
One thing you want to avoid is collecting email subscribers without sending them anything.  If you do that, and then one day decide you want to start sending emails, a lot of those early subscribers will unsubscribe because they forgot all about you.
To avoid that, you need to start sending emails to your subscribers on a regular basis from the beginning, even if you don't have any subscribers yet.
Sounds like a lot of work for no reason right?  Don't worry, we'll automate it so you can set it and forget it.
In your MailChimp account, create a new email campaign and select Automated > Featured > Share blog updates.
From there, you can enter your RSS feed URL.  To find your RSS feed URL, to go your main blog index page (the one that lists all your recent blog posts) and add "/feed" to the end of the URL.  Try it out in your browser.  You should see RSS feed code that starts with <?xml .  Take that URL that ends with "/feed" and use that as your MailChimp campaign's RSS feed URL.
There's lots of other stuff you can configure with your email campaign, but won't go into more detail here.  Let me know in the comment if you want an in-depth tutorial on this.
Alternative to MailChimp
A while back, MailChimp started making free users pay to keep their account.  They were decreasing the limits on free accounts and raising their rates for paid accounts.  At that point, I did some research and switched to MailerLite.  You only pay for what you use and the rates were the best I found.
Set Up Automatic Social Media Posting From Your Blog
Another way people will subscribe to you is on social media.
While you work on attracting followers, make sure there is a steady feed of social posts coming from your new blog posts that you are publishing regularly.
I've tried so many different ways of doing this over the years, and my favorite way is using IFTTT which stands for IF This Then That.  I use the WordPress to Twitter applet and the Share new WordPress blog posts to your Facebook Page applet.
With those IFTTT applets on, I simply publish blog posts from WordPress and they show up on my Facebook page and Twitter profile.
Set Up OneSignal Push Notifications
Have you seen websites that ask if you want to allow them to show you notifications?
The technology has been out for a while, but lately it's really been caching on.  A lot of websites have this feature now.
Good news… it's completely free, and you can set it up easily.
Go to OneSignal, and sign up for a free account.
Install the OneSignal WordPress plugin.
Follow the instructions in the plugin carefully to set up all your platforms in your OneSignal account and configure your API keys in the WordPress plugin.
Write, Write, Write
Ok, at this point, we should have most of the initial setup done, and you should have a decent looking website with a few bells and whistles.  But none of that matters if you don't have any content.
It's time to write your blog posts, and keep writing them.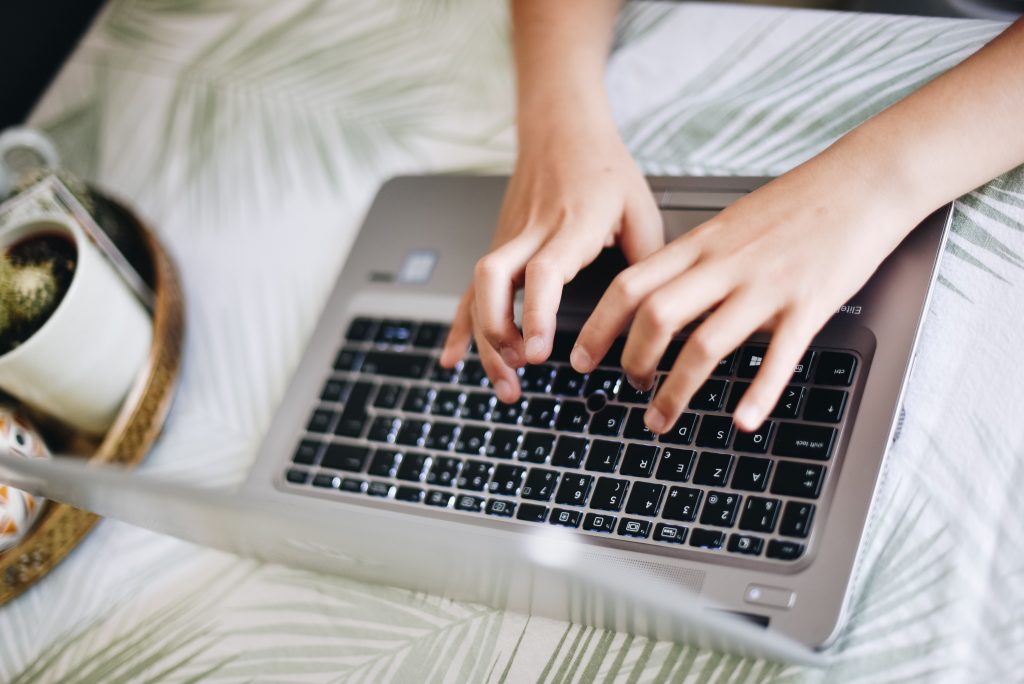 Like I mentioned towards the top of this post, it is crucial that you stay consistent in your blogging schedule.  Google sees consistency of your new blog posts and that plays a fairly significant part in your site's rankings on the Google search results.
But, what to write about?  Simple.  Solve a problem.  People in your niche are having problems and they are turning to Google for answers.  They might not be finding the answers they are looking for, or you might be able to answer the question better than your competitors.
Explore all aspects of your niche and I'm sure you will think of problems that need solving or questions that need answering.
Also, many studies have proven that the longer and more in-depth the post, the better.  Do lots of research for your posts.  People like big "skyscraper" posts that look authoritative and comprehensive.  They spend more time reading them which increases their "dwell time" or "time on site".
Google pays a lot of attention to the behavior of searchers.  If they click on your post, and immediately click the back button and try the next one, that is a big down-vote.  If Google sees these kinds of trends, your post will move down in the rankings and will probably fall off of the first page.
All that to say… SEO is actually pretty simple; give users exactly what they are looking for.  Google will reward you for it.
Complement Posts with Video
Speaking of keeping users on your site longer, one great way to do that is to incorporate video on your posts.
If people stop on your post to watch a video, that increases visitor "dwell time", and overall it makes the post more engaging.
If you start your own YouTube channel and make your own videos, that would be the best, but it's also a lot of work.  Sometimes I do that.  Other times, I just embed someone else's video which is related.
Complement Posts with Images
Don't for get to use images in your posts.  Images sprinkled in throughout posts make them more engaging.  Readers are not as intimated with a wall of text when it's broken up with images.
Also, always use a featured image for your posts.  Just do it.  Trust me.
Get Back-Links
On the topic of SEO, one big factor is still back-links.  Google's view of your domain authority is heavily influenced by the number and quality of the sites that link to your site.
Here are a few tips for getting your back-link profile started.
Skyscraper Posts
The best way to get high quality back-links is to write ultimate comprehensive posts that naturally earn back-links.
When people run across your masterpiece, it will naturally get attention, get shared, and get mentioned on other blogs with back-links.  But it will take time, for sure.
Forum & Comment Marketing
Get involved in the discussion.
Subscribe to forums in your niche, be helpful, and you may fine opportunities to plug your URL.  You can also search on Google for topics that you've blogged about, read posts from other blogs, and leave comments.
Be careful!  Don't be spammy!
It's very easy to get banned and ruin your reputation online if you are posting links and copying and pasting the same comment in several different places.  Don't do it.
If you're going to use this method at all, you need to primarily focus on being helpful and let the URL plugs happen naturally and occasionally only when it's helpful to people.
HARO
HARO stands for Help A Report Out.  It's a free service where reporters ask questions and sources give their answers or quotes which the reporters can use in their news story or blog post.
If you are starting a new blog, it's a good idea to get set up as a source.  You will get an email 3 times a day with questions from reporters.  If you see a question that applies to you and you have a good answer, you email them with your answer.
If you do this enough times, you will start getting some back-links from bigger websites which will be incredibly valuable for the SEO and growth of your new blog.
Speed Up Page Load Times
Did you know that average page load time is another big factor that Google uses in ranking search results?
It is very important that your website loads as fast as possible if you want a chance at getting some first-page organic Google search traffic.
Luckily, I wrote an in-depth tutorial on how to speed up WordPress.
Beef Up Your Social Profiles
Once you have a group of blog posts out there, start spending some time on your social media profiles.
Be social.  Follow people in your niche.  Share content.  Always respond to comments.
But be careful not to spend too much time.  It's easy to get sucked into social.  Remember writing posts is your most important job as a blogger.
Monetize with Google AdSense
Ready to start making some money with your blog?  Google AdSense is the easiest way to throw some ads up on your site to start earning some money.
But, I have some tips for you regarding AdSense:
Don't go overboard with ads.  You don't want to slow down your site and drive people away because your site is littered with ads.  Keep it simple and clean.
You won't make that much money with Adsense.  You would need a crazy amount of traffic to make any sort of living based on AdSense, and if you had that much traffic, you would be making a lot more with affiliate programs.
With these things in mind, sometimes "the juice isn't worth the squeeze".  But, read on for other ways to monetize.
Monetize with Amazon Associates
Amazon is the biggest online retailer so the Amazon Associates affiliate program a natural fit for bloggers looking to recommend products and earn some commission.
Here are some benefits of Amazon Associates:
Amazon is very low friction because most people already have an Amazon account and buy things on Amazon regularly.
When your visitors click your affiliate link to an Amazon product, anything they add into their cart in the next 24 hours and checkout with in the next 30 day, you will get commission for.  You will find that you get commission for things you never recommended because people are reminded of other things they wanted to buy after they followed your link.
Monetize with Affiliate Programs in Your Niche
Here's where the real money can be made (in my experience).
Find companies who offer products or services in the area of your blog's niche (or something your audience would be interested in).  Many of them have affiliate programs that you can sign up for.  You will notice that the commission rates can vary a lot from company to company.
The companies that are serious about boosting their sales offer very generous commissions to their affiliates.
Make sure to test and try out a product before you start promoting it.  You don't want to promote something that is junk.  Plus, if you haven't used it yourself, you won't be able to write about it from a genuine first-hand perspective.
Once you have some affiliate links ready to use, write some posts that would have a natural plug.  Make that post a definitive and comprehensive post that might get ongoing organic search traffic.  When you've achieved that, the residual income will start flowing in.
Run Paid Ads to Boost Affiliate Revenue
Want to boost your post that has an effective pitch of an affiliate product?  You might consider PPC (pay-per-click).  My favorite platforms for that are Google and Facebook.
Google Ads (search ads) are great when you want to target someone who is searching for a specific thing.  That lets you target people who are in the market for something.  If they click on your ad, you might be the one to snag the affiliate commission from that sale.  The downside to Google Ads are that they are the most expensive.
Facebook Ads are great when you want to put an ad in front of a certain group of people and do it on the cheap.  With Facebook ads, you can target so finely where your cost per engagement is super low.  The downside of Facebook ads is that you are essentially trying to distract people who are scrolling through their news feed.  They are probably not in the mindset of buying what you're trying to sell, so your ad and blog post would need to be very compelling.
Comments?  Questions?
Please let me know in the comments below.  Thanks!
Blogger, expert WordPress developer, and developer of the awesome bbPress Voting plugin which is a must-have plugin for any bbPress forum.
Download bbPress Voting for free on the WordPress Plugin Directory.